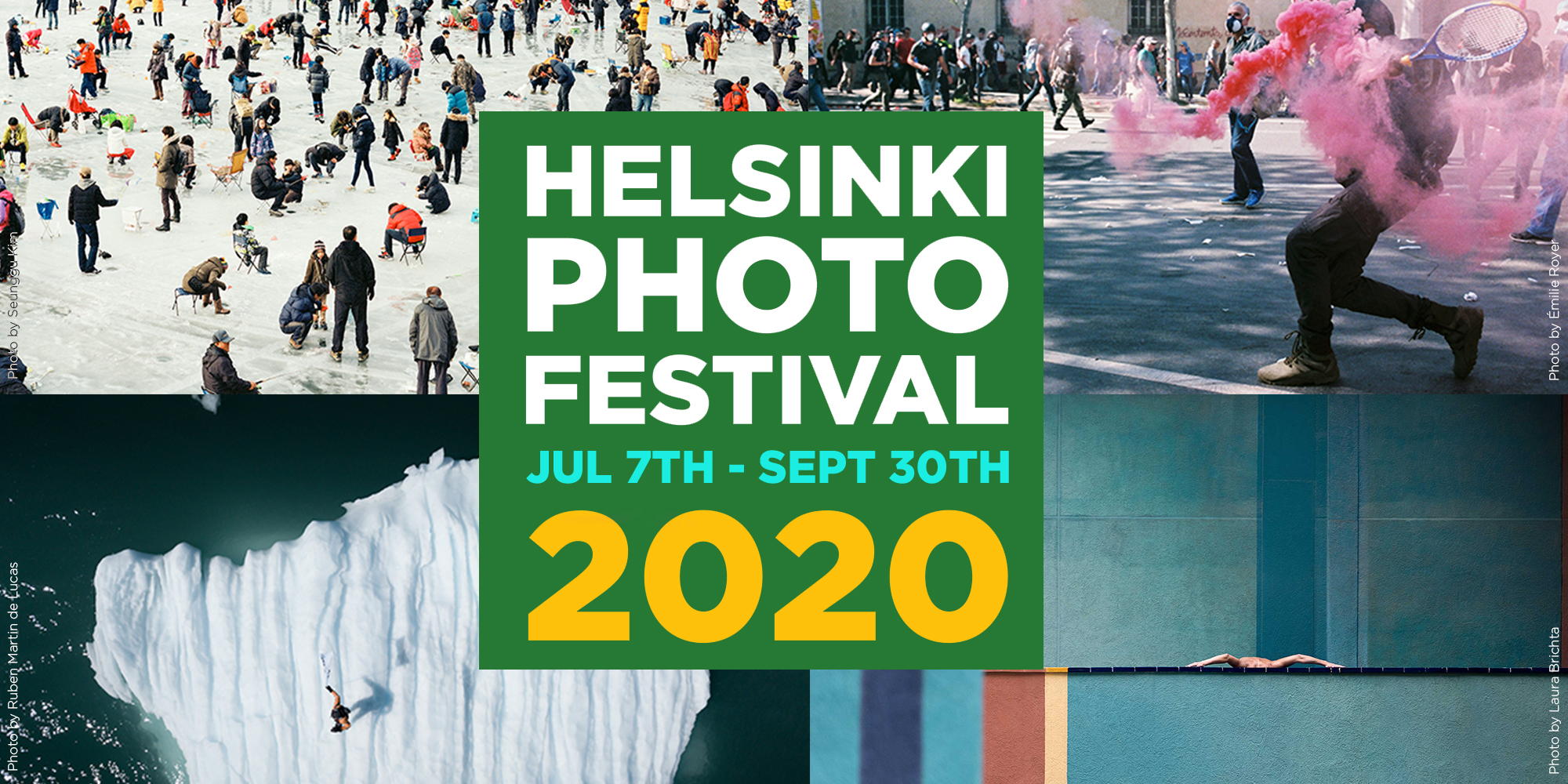 The Helsinki Photo Festival pushes the boundaries for exploring photography in Finland and brings the artistic medium of photography back on the streets.
Amidst the growing wave of cancellation of cultural events, sweeping the cultural scene all over the world, Helsinki Photo Festival is going forward and continues building its program for the festival this summer. For the period of twelve weeks July 7 – September 30, the event will attract visual media enthusiasts to photo exhibitions spread all over the city of Helsinki.
Helsinki Photo Festival ry, is a non-profit association and a platform that advances and disseminates information about photography. 
We help artists to hook up with audiences and experts in the field of photography. We give artists access to an international network to enable them to find new ways to work, get published and exhibit abroad and in Finland. The main initiative is to increase the visibility of contemporary photography through events and learning activities to give participants the opportunity to develop their projects as well as their artistic independence.

Helsinki Photo Festival promotes and exhibits works of emerging photographers, visual storytellers, photojournalists, visual arts professionals and multidisciplinary artists.

We aim to select +40 artists works to exhibit in solo- and group exhibitions during the festival period. The festival theme of 2020 is "Trust". 
A jury of international experts will together identify and select the winning collection of images for the upcoming Helsinki Photo Festival 2020.
We challenge photographers and visual artists of all ages to share with us the connections they see with our theme, in imaginative and creative expressive interpretation. Ambitious and innovative photographs in a theme of trust can be submitted in various genres, techniques and styles. The annual open call accepted  submissions from all over the world until 23rd of April, 2020.
Apply here: https://bit.ly/2NmLySq

We aim to showcase noble and magnificent fine art photography that has never been seen before in Finland in the metropolitan area of the City of Helsinki. The curated exhibitions will take place in historic landmarks, warehouses, art centres, galleries, parks and waterfront areas in Helsinki.
Helsinki Photo Festival also introduces novel modular-shaped photography-based installations functional to display both, large-scale vertical and horizontal sized images for use in public spaces and galleries. 
The festival also includes the Nordic Village – a concept with the focus to support emerging Nordic photographers and their work(s) to a broad audience.
Most outdoor exhibitions can be enjoyed at any time of the day, free of charge!
The festival program will be announced in due time in print media and in our photo events calendar and Social Media.

WORKSHOPS
SEMINARS
ARTIST TALKS
PORTFOLIO REVIEWS
PHOTO WALKS
The program includes artist-talks, workshops, seminars, portfolio reviews, photo walks and exhibitions inviting all photo enthusiasts of any age to experience extraordinary innovative images taken by Nordic and international photographers and to learn new things.
The practice, theory and pedagogy events to discover new opportunities, acquire knowledge and connect with other creative will be facilitated by international experts in the field of photography. 
Helsinki Photo Festival will be organized despite the current unfortunate situation with Covid-19. However, there have been some preventive measures incorporated into the program in order to protect our visitors, participants and supporters.
Learning activities will be organized online if the situation remains unchanged. Further information about the exact locations and dates will be announced in due time on our photo events calendar and Social Media.