Seminar with Arno Rafael Minkkinen & Stefan Bremer
10sep12:00 am3:00 pmSeminar with Arno Rafael Minkkinen & Stefan Bremer#helphoto20
Event Details

On September 10th, two experienced and celebrated photographers–the Finnish-American photographer Arno Rafael Minkkinen (b. 1945) and the Finnish photographic artist Stefan Bremer (b. 1953) will talk about their decades of work, careers in photographic education, and the differences and similarities in their visions, practice, and thinking.

Meet and learn from Arno Rafael Minkkinen and Stefan Bremer.

The seminar will take place in the Auditorium of the National Museum of Finland.

Tickets can be ordered here:
https://holvi.com/shop/helphoto/product/7290c3a45188eba1ae67c0359bb20ac9/

Biographies:
Arno Rafael Minkkinen is a Finnish American photographer, essayist, educator and curator with over 100 solo shows and 200 group exhibitions at galleries and museums worldwide. He holds a Master of Fine Arts degree from Rhode Island School of Design, studying there with Harry Callahan and Aaron Siskind. His teaching career began in Finland in 1974 at Helsinki's Taideteolinen Korkeakoulu where among his star students was Stefan Bremer. His teaching career has been extensive and international in scope. Assistant Professor at MIT in the early 1980s, visiting professor at Vevey's École d'Arts Appliqués in Switzerland for ten years at the turn of the millennium, he is currently Emeritus Professor of Art at the University of Massachusetts Lowell and docent at Aalto University School of Art, Design, and Architecture in Helsinki.

Major monographs include: Frostbite (Morgan & Morgan, 1978), Waterline (Marval, Aperture, and Otava, 1995 – Grand Prix du Livre, 25th Rencontres d'Arles), Body Land (Motta, Nathan, and Smithsonian Institution Press, 1997), SAGA: The Journey of Arno Rafael Minkkinen: Thirty-Five Years of Photographs (Chronicle Books, 2005), Homework: The Finnish Photographs, 1973 to 2008; Balanced Equation (Lodima Press, 2010), and Minkkinen (Kehrer Verlag) which won the German Photobook Prize for Monograph of the Year 2019 | 2020.

Minkkinen's works are held in over 75 prominent museum and institutional collections worldwide, such as the Musée d'art moderne and the Georges Pompidou Center in Paris, the Musée de l'Élysée in Lausanne, the Museum of Modern Art in New York, the Museum of Fine Arts Boston, the Center for Creative Photography in Tucson, the Museum of Fine Arts Houston, the High Art Museum in Atlanta, the National Art Gallery in Ottawa, the Tokyo Metropolitan Museum of Photography, and the Contemporary Art Museum Kiasma in Helsinki. Fotografiska in Stockholm is currently presenting Arno Rafael Minkkinen's 50-year retrospective Two Hundred Seasons through January 21, 2020.

Minkkinen is a recipient of the National Endowment for the Arts Grant in 1991, the Order of the Lion First Class medal from Finland in 1993, the 2006 Finnish State Art Prize in Photography, the 2013 Lucie Award for Outstanding Achievement in Fine Art, a 2015 John Simon Guggenheim Foundation Fellowship, the Pro Finlandia medal conferred on the Centennial of Finnish Independence in 2017, and the 2019 Honored Educator Award from the Society for Photographic Education.

Minkkinen wrote the essay Finland's Dark Poet of Velocity for Mr. Bremer's latest monograph from Teos, Velocity: Keskeltä ja täysillä.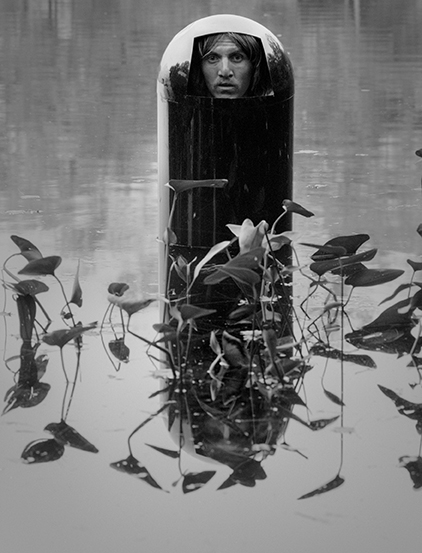 Minkkinen send Helsinki Photo Festival one of his self-portraits and wrote us: "Working as a copywriter on Madison Avenue for Minolta cameras, I created the headline, "What happens inside your mind can happen inside a camera." I came to believe the line so much I decided to leave the world of advertising and study to become a photographer. In the picture here, made while I was still among the MadMen, I borrowed the trash can from the agency, painted it black, and drove it up to a summer place in Connecticut. Little did I know when I waded out into the water with the self-timer bulb in my hand and the heavy trash can over my head that I had no exit strategy. As it was, getting out of the can was no simple matter. But what if I had slipped in the mud and fell into the water with all that weight!" I'd still be among the water lilies! 
© Arno Rafael Minkkinen, Among the Water Lilies, Pachuag, Connecticut, 1972.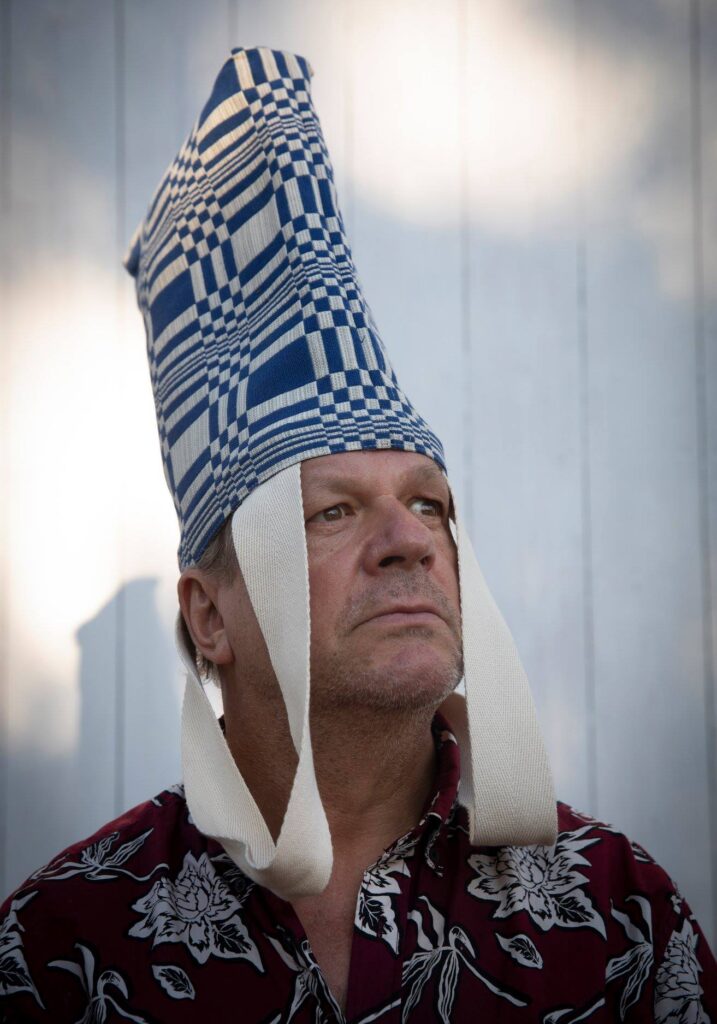 © Sophie Ehrnrooth, Big Smile. Bag: Design by Johanna Gullichsen
Stefan Bremer (b. 1953, Helsinki, Finland) is a photographer,a visual artist and teacher from Helsinki. He studied at the Aalto University in the 1970s. From then on he has taught in art schools around Finland as well as at the Stockholm School of Photography and the Gothenburg University. Quite a large number of young, and semi-young, photographers in Finland are former students of Stefan Bremer. He has lead intensive photography workshops in Europe as well as in Africa and Asia. He has been shown around the world in numerous solo and group exhibitions, and his photographs are part of many public and private collections. At the heart of his artistic production, Stefan Bremer works with people. He has studied the difficulties of being human. "I wanted to broaden the soulscape of Finnish men and women. I dove into the world of youth and with affinity brought different individuals to light, and studied trends and tendencies of that time. I wanted to study indecisiveness and the collapse of ideals with as much interest as the contagious enthusiasm of life. In my work I also strived to comment and participate in the political discussion of moralism and ideals. I want to polemicise, to use photography as a tool for propaganda and to be an interpreter of the bitter laughter." Stefan Bremer's new works address many of the basic properties of photography, studying the elements of time, scale and light. The camera can record a thousandth of a second in an image, a slice of time beyond the grasp of the human eye. The scale ranges from minute particles and studies of ink to a high bird's eye perspective. Bremer was awarded the Finnish State Prize for Photography in 1988, the title of Artist Professor in 1999 and the Culture Prize of the City of Helsinki in 2011.
more
Time

(Thursday) 12:00 am - 3:00 pm
Organizer
Helsinki Photo Festival ry is a cultural non-profit association created to attract interest and disseminate information on photography and visual media in Finland and abroad.
info@helsinkiphotofestival.com