The Nordic Village at Helsinki Photo Festival is a concept with the focus to support emerging Nordic photographers and their work(s) to a broad audience.
The photographers get selected through a jury of photography professionals and curators responsible for the festival's open call contest.
The Nordic Village showcases in the Nordic Culture Point library from August 13 till 27, 2019 and introduces open call finalists 2019 of the theme Anarchy: Tine Bek from Denmark, Marcus Gustafsson from Sweden and Saara Tuominen from Finland.
August 23 the Helsinki Photo Festival presents the personal stories of leading photographers from three Nordic countries, finalists of the Nordic Village open call 2018: Sebastian Sardi (Sweden),  Stig Marlon Weston (Norway) and Kalle Kataila (Finland).  The seminar is open to all photo enthusiasts and is free of charge.
Open Call Winner / Denmark
Tine Bek, Denmark
Komfort Skulptur
The works titled komfort skulptur (Danish for Comfort Sculptures) is part of a series of chapters investigating our dependence on comfort, both in relation to the objects and architecture around us but equally concerning the hunt for luxury and perfection.
Looking into the materials which form the core of our every day, the project; Komfort Skulptur portrays the materiality and awkwardness of foam and its many possibilities. Within the project, Tine Bek looks at sculpture as something temporary rather than fixed. There is a certain playfulness involved in the production of the works and by testing out the shapes and forms that can be created using materials which normally has a very different and more useful function.
Seminar Speaker / Norway
We are proud to announce Stig Marlon Weston, open call finalist of 2018, as speaker at our Nordic seminar at Nordisk Kulturkontakt.
Representing new innovative photography from Norway Stig Weston is going to give insights of Nordic craftsmanship and talk about his camera-less photography techniques among other of his projects.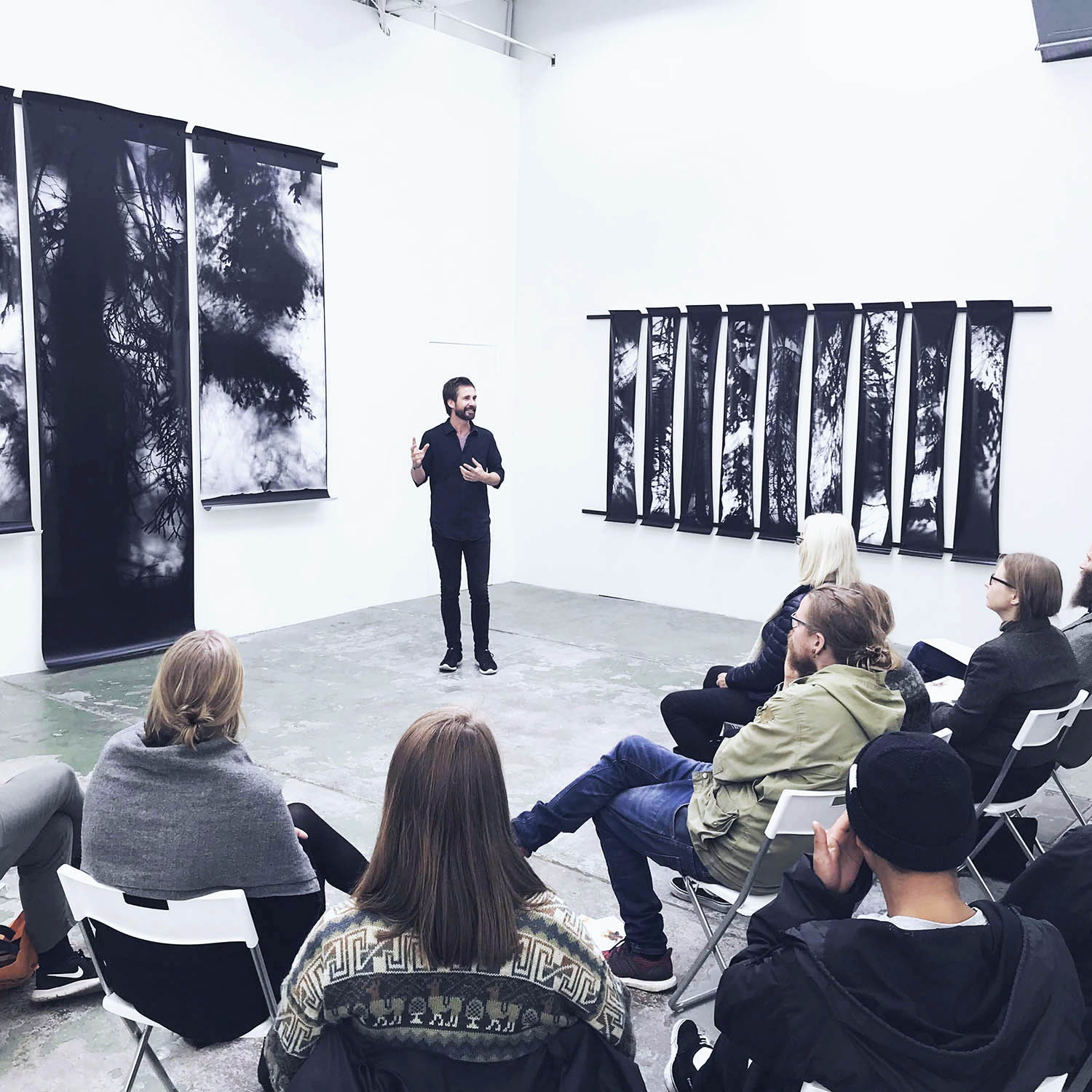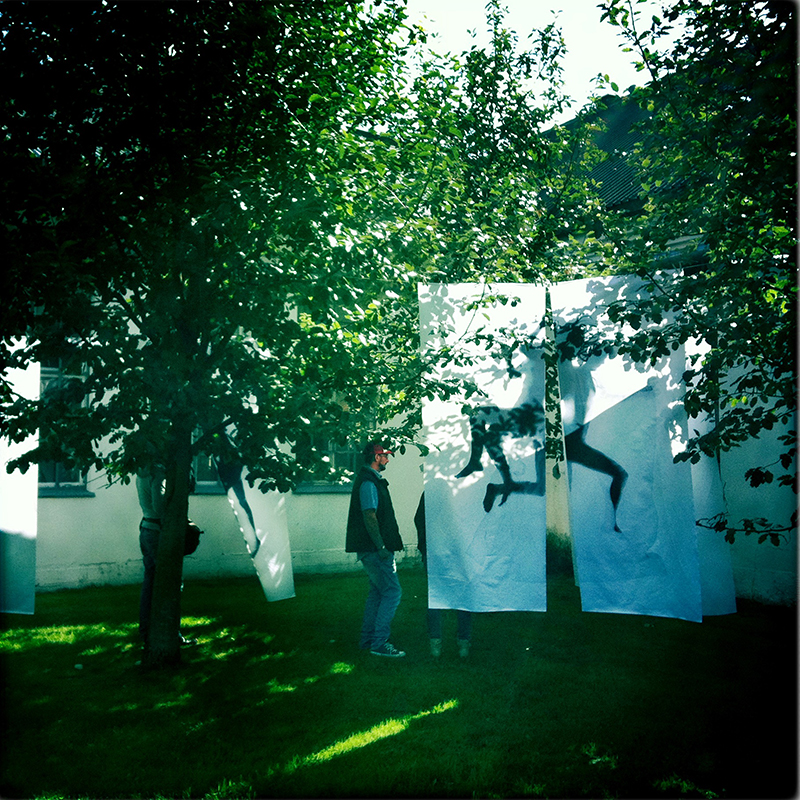 Open Call Winner / Finland 
Saara Tuominen
173 days
Each year in Finland, there are 30-50 military objectors referred to as total objectors (totaalikieltäytyjä in Finnish). They refuse both compulsory military service and the option of civilian service. Finnish law requires that they serve a prison sentence of six months. Total objectors choose to be imprisoned for various reasons, but common ones are objecting totalitarian structures, resisting war and violence and raising awareness of what they consider an unjust practice by the Finnish government.
Most of the time the sentence can be served as a 173-day home arrest. A radio signal ankle transmitter makes sure that the prisoners follow a daily regime that they have to plan several weeks in advance. The sentence is an emotionally damaging time for total objectors and for some it has long-lasting effects. This is a series of portraits and was made in an attempt to raise awareness of the people going through this sentence as the Finnish government was facing a choice of whether to stop this practice or not.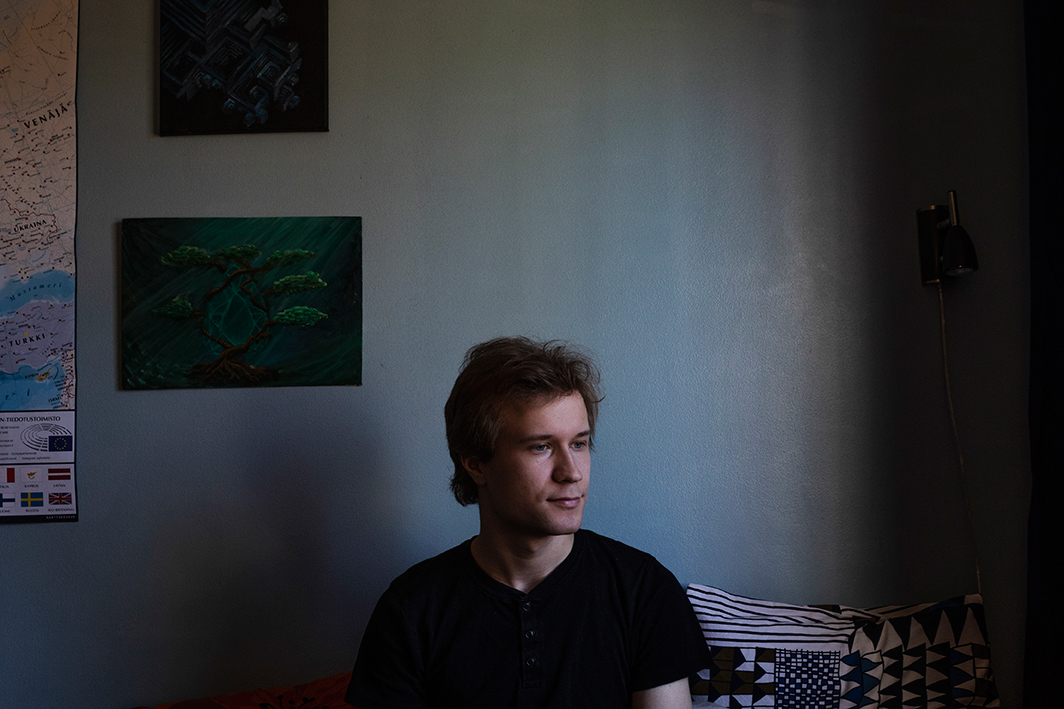 Seminar Speaker / Sweden
We are proud to announce Sebastian Sardi, open call finalist of 2018, as speaker at our Nordic Village seminar at Nordisk Kulturkontakt.
Sebastian Sardi was born in 1983 in Stockholm, Sweden. At the age of 22 he started taking classes in analog photography at the Peoples University in Stockholm. In 2009 he moved to Denmark to study photography at Fatamorgana the Danish school of art and photography. In 2011 he received a Bachelor's degree in Art History and Visual Studies. In 2012 he published his first photobook "A Cirkusz". In 2019 Sardi published his second book "Black Diamond" which focuses on the gruelling working conditions in coalmines. In the photos of Sardi one can witness the living conditions of villagers in big coal-producing countries, who live in areas covered in coal dust and breathe the toxic air. In the "coal capital" of India's Dhanbad, residents in pictures show dignity and beauty, instead of suffering. Sardi's images are striking and bring us together, showing us the vulnerability of our planet and ourselves as a shared problem. Sebastian Sardi's Dashed Hopes at the World Village exhibition has been seen by over 20.000 spectators and now Helsinki Photo Festival is proud to present Sardi's guest lecture in the Nordic Village seminar.
Open Call Winner / Sweden
Marcus Gustafsson
Vibrant Days
Marcus Gustafsson's photography is a straight forward "point-and-shoot" kind of style, creating images of the people close to him. It's more about him trying to capture what he feels than what he sees.
Marcus is exploring the people around him from his own subjective view with the human connection being central in his work. His images is as much about himself as it is about the people he's photographing.
After graduating in 2013 from the Mid Sweden University with a bachelor degree in photojournalism, he moved to Stockholm, where he's currently based. There he has continued photographing what inspires him the most, his friends, which made him pick up the camera in the first place back in his hometown, Gnesta. After nearly 10 years and a few smaller group exhibitions later, this body of work emerged and is now presented to you as "Vibrant days".
Seminar Speaker / FI
We are proud to announce Kalle Kataila, open call finalist of 2018, as speaker at our Nordic Village seminar at Nordisk Kulturkontakt.
Kalle Kataila's (b. 1978) work has focused on exploring concepts of landscape and how personal narratives attribute to our understandings of these spaces. In his recent works Kataila has been using both old technologies and new, crisscrossing boundaries and blending techniques to examine the shift with in the medium. His work has been exhibited internationally and he has mounted solo exhibitions in Finland, Estonia, Canada, Italy and Japan. Kalle belongs to the first generation of Helsinki School artists.